24 July 2001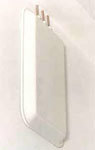 To future-proof inbuilding roll-out, European Antennas has launched a new tri-band microcell antenna covering the three frequency ranges GSM900 (880 to 960MHz), GSM1800 (1.71 to 1.88GHz) and UMTS (1.92 to 2.175GHz) in one housing. Models within the range include a choice of connection, including a model with one connector for GSM and a separate connection for UMTS to help avoid any possible compromise in signal. 

Designed for microcell applications, just one antenna is required when upgrading to include UMTS and maximise frequency usage. Low profile and environmentally discreet, this antenna has been designed to assist with planning application approval. 

Inconspicuous when mounted, the antenna is small, measuring only 339x224x25mm (13x9x1 inch) and can be flush mounted. Neatened cable exits for integral flying leads ensure minimal disruption to structure surfaces. 

Contact us direct for more information: newmarket.sales@cobham.com, or telephone +44 (0)1638 732177.